Welcome
Applegrove is an eclectic witchcraft and wiccan-based working group and teaching circle in Sydney, Australia.
We formed out of our parent grove around 1996 and started our teaching circle, Circle Of The Hearth in 1998-99.
Applegrove ran public and semi-public pagan gatherings from 1996-2001 as well as organising the Australian Wiccan Conference 2006 with Pagan Awareness Network. Currently we are focusing more on the working group and teaching circle rather than presenting events, however some of us still do present workshops at pagan gatherings such as the AWC and several members are actively involved with helping at the PAN Full Moons.
This web site was set up to provide information on Wicca and Witchcraft as well as to publish some of our rituals and workshop notes.
Please feel free to download our rituals and workshop notes for your personal use. We do however ask that you not reproduce them without permission and acknowledgement of the source.
See our copyright page for more information.
Blessed be
Blayze
What has been happening?
Whilst we may not have posted much on the website of late, Applegrovians have been very busy behind the scenes. Since our last update we have attended many gatherings around the country, including the English Ale, several Australian Wiccan Conferences and two Sydney Beltane Gatherings presented by Gliding Seal. Michael ran a wonderful Samhain gathering that explored how Samhain is celebrated and understood by different pagan paths. Applegrovians also attended and presented at The Festival Of The Minds in Sydney.
WORKSHOPS AND CONFERENCE PAPERS:
There are some newly uploaded conference papers in the Articles section. These include:
AWC 2011 Tasmania workshop notes and handouts from: "Incorporating (and actualising) Physical Sigils and Patterns into Ritual Design and Movement" which includes various Pentagram ritual movements and variations of the Elemental Balancing rituals. The Pentagrams section of this workshop was also presented at the Festival Of The Minds in Sydney.
AWC 2012 Sydney workshop notes from "The Use Of Gesture And Silence In Ritual" which was an updated presentation from the original workshop presented at the AWC 2007 in Victoria. This workshop has also been presented at Ritual Experience in Queensland and at the PAN Full Moon pre-ritual workshops.
AWC 2015 Adelaide workshop notes from "Effective Use Of Movement and Music in Ritual"
RITUALS
A bunch of new sabbat rituals from 2013 to 2015 have been added to the Rituals page.
GATHERINGS & EVENTS:
Beltane Gathering presented by Gliding Seal
Many Applegrovians attended the 2014 and 2015 Beltane Gathering in Sydney. There is another one planned for 2016 and it promises to be just as much fun. Go to Gliding Seal Events or join the Facebook Group
The Australian Wiccan Conference
The Australian Wiccan Conference has a new Facebook Group where members of the community can chat about past and future events. This is where information will be posted regarding voting on upcoming locations for the conference.
The English Ale
The English Ale is a fantastic annual event held in the Adelaide Hills in South Australia. Some Applegrovians are regular attendees, but even if we can't make it we still heartily recommend attending. There is amazing entertainment, a gorgeous torchlit procession with Giants, Guisers and Morris Dancers that leads into the ritual lighting of the bonfire PLUS a concert featuring the always brilliant Spiral Dance. For more information go to the English Ale website or the Facebook event page.
THE HEARTHFYRE ENSEMBLE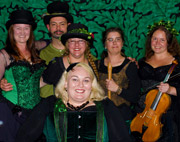 The Hearthfyre Ensemble has been sporadically rehearsing a huge amount of new music that explores the mysteries of the Sabbats and our relationships with our Gods. To listen to some works-in-progress and keep up with news about the band, you can like the Hearthfyre Ensemble Facebook page.
TRAVEL
Several Applegrovians travelled around the United Kingdom and the Republic Of Ireland at various times in 2015 and managed to visit several famous and not so famous sacred sites.
Some of the sites that Applegrovians visited included:
Collectively we also spent quite a lot of time at museums and librarys:
There were also trips to some incredible pagan and witchcraft shops in London as well as shops in Tintagel and Glastonbury. Many books were purchased to add to our various libraries
If you are planning a trip to the UK, we highly recommend perusing the Pagan Federation website and clicking on the Districts dropdown menu. Some of the districts have regular events and many list local sites of interest to pagans.

For friendly and informative private tours of stone circles, sacred wells and places of interest in the Peak District and Derbyshire (as well as a delightful B&B) we highly recommend No 37 Wirksworth.
For friendly and informative bespoke tours of the Orkneys we highly recommend Helen from Spiritual Orkney.
If you are looking for a sacred sites tour of Cornwall, The West Country, Ireland or Scotland, we recommend Dragon's Eye Tours.